It was the very last IBC meeting. You know, this "Tuesday lunch" meeting type where you would sell anything to get out of the RAI and be freed from the Amsterdam craziness (writing this post, I would now sell anything to taste that craziness again …).
It didn't take long to figure out that this would be a special meeting. The guys sitting in front of us knew what they were looking for, and it turned out that it was precisely what we had to offer.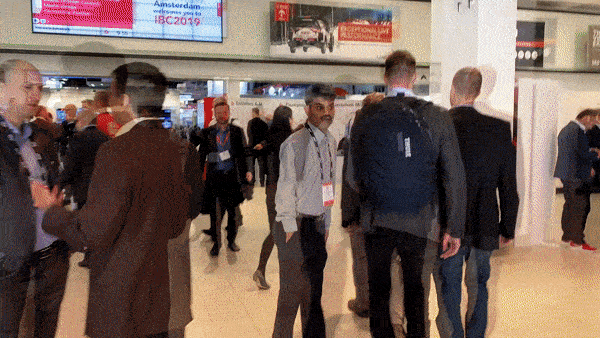 Red Bee background and pain points
Innovation has always been the cornerstone of technical and operational development for Red Bee Media and the services it provides its clients. So when Red Bee discussed its OTT channel delivery requirements with us, they realized that Quortex's true cloud design principle at the forefront of its development and their "Just-In-Time Everything, Everywhere" (JiTE) solution to be a true game changer for both Red Bee and their clients. As Olivier Braun (Technical Product Manager at Red Bee Media) said, "being able to do that is a big game changer, especially when using public cloud resources".
The new use cases enabled by our Just-In-Time approach included enabling new business for Red Bee, as our solution offers a sweet spot for some channels where the return on investment is not fully defined yet. For instance, said Olivier, "We had a customer who wanted to have a lot of linear channels, some very popular and some others targeting a niche audience. While the cost for the popular channels could easily be covered by their audience, it was much more difficult for the tier 2 / tier 3 channels, which in the end our customer decided to stop offering. If we had a solution like Quortex at that time the running costs for those channels would have been much lower."
Quortex impacts on efficiency
The use case mentioned by Olivier was striking to us. We have been fighting since we started Quortex to explain that the cloud is a cost-effective option … if you run a cloud-native architecture. Porting an existing software to the cloud is like driving a Formula 1(™) for the Paris Dakar(™): it's expensive, inefficient, and likely to fail sooner than later (and no, adding a cloud logo, changing the tires nor implementing a halo is an option).
We may not build cars :), but we designed our software from scratch, with only cloud principles and with one obsession: make the cloud a cost-effective option for live streaming. Red Bee has that cloud culture: they invested in a very talented DevOps team and they could immediately see the value of our approach.
The fact that we run on Spot instances was also key: Spot allows you to save up to 80% of the cloud infrastructure compute costs. They are not (yet) equally supported by all the cloud providers, but they offer a solid alternative to on-premise encoding when comparing TCO.
Quortex impacts on new service delivery
Red Bee is a worldwide company. They want to be able to deliver new services quickly, anywhere globally. Our ability to use any private or public infrastructure in any region of the world is another game changer. "It was also important to have a hybrid solution" adds Olivier.
"Integration was very easy as we use the same DevOps tools internally, like Terraform. And as all your services have REST APIs we've been able to tightly integrate Quortex with Red Bee Managed OTT backend to automatically deploy and configure channels." adds Olivier.
The modular architecture helps to lower operation costs. Indeed, with Quortex providing a pull mode basis, we made it very simple for Red Bee to extend and configure our system. In addition, our public terraform modules make it possible to deploy tens of live streams in minutes, on any cloud provider, throughout the world.
The Green Impact!
Using "Just-In-Time Everything" also involves benefits related to sustainability for Red Bee, who is consciously working towards reducing its environmental impact. Their green efforts include for example being a main sponsor for the DPP "Committed to Sustainability" program and running a companywide employee led initiative called Green Bee with the aim to build internal awareness and take action to become a more sustainable business.
By design, "Just-in-Time Everything" only produces content when it's actually watched by someone. As a result, it only consumes the exact amount of resources that is required for delivering the content. During Off Peak times our solution will receive less requests and automatically scale down, literally shutting down servers rather than consuming power unnecessarily.