Quortex Link
One-Click Cloud Distribution.
Securely and reliably deliver your live contents to your partners in point-to-point, or point-to-multi-point, from and to all around the world. Controlling your content delivery has never been simpler!
Move away from costly satellite or dedicated fiber links. Schedule the delivery of your content and pay only for what you really use.
You don't have any time to waste with a complex Interface – create new secured links in seconds and manage your operations from one single place.
Your content matters. Quortex Link features 99.999% availability and the ability to monitor your streams in a snap.
From anywhere, to everyhwere
Close to your content, close to your takers
Benefit from a managed cloud IP backbone, leveraging dozens of points of presence. Easily connect to our cloud platform from anywhere, and let us deliver your content close to your takers with pristine QOS.
You can deliver your content in SRT to one, dozens or hundreds of takers. Latency is kept at its very minimal, with an unprec reliability.
Operations and monitoring in a breeze
Focus on what really matters
Create new links in seconds, manage all operations centrally, monitor in depth your streams – all from the convenience of your mobile device or desktop.
Our system ensures smooth and secure operations.
Rock around the clock
Schedule the delivery of your streams
Scheduling the delivery of your streams is key to make sure your content reaches the right taker, at the right time.
We have a built-in powerful and easy-to-use scheduler to facilitate your operations. You can also integrate our public APIs with your existing scheduling system.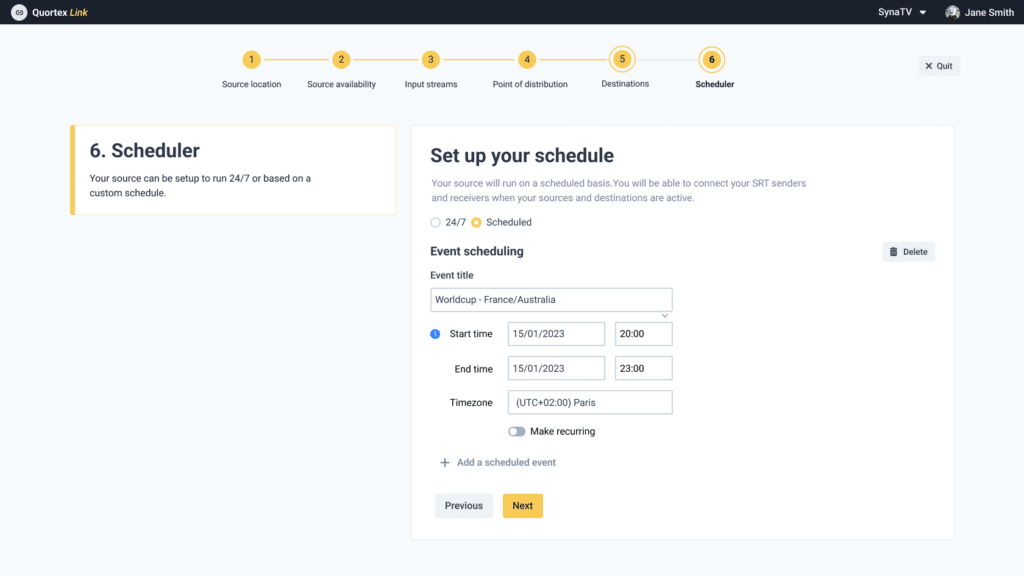 An API-centric platform
Move to the dark side
Automate everything using our fully documented API.
Launch channels, reconfigure them on the fly, gather analytics, schedule shutdowns, and get billing information. You own it.
And of course, it comes at no extra cost.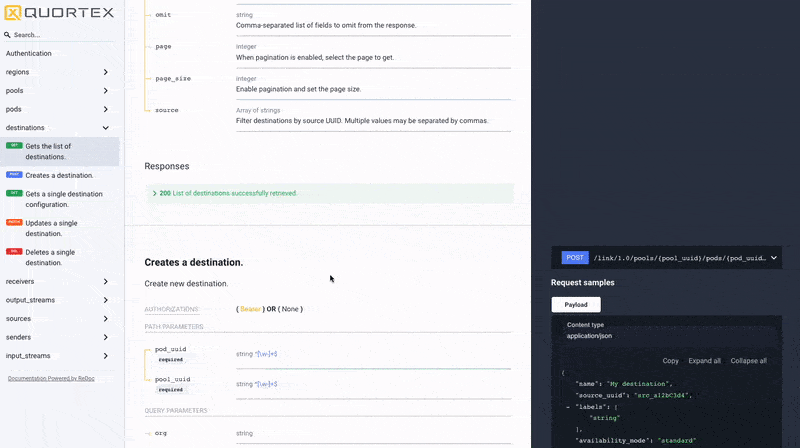 Costs are calculated from your actual usage, without any monthly/annual commitment, and include automatic volume discounts.
Real-life examples below!
20 games
3 hours per game
SRT Delivery to 25 locations
Highly Available setup
1 channel in 24/7
SRT Delivery to 5 locations
Highly Available setup
3x Live Channels
12h per day in average
SRT Delivery to 5 locations
Highly Available setup
Frequently Asked Questions
Quortex Link is an application of Quortex for point to multipoint distribution of professional live video streams using public cloud. It is typically used to deliver live contents from content providers to service providers.
Do you support temporary events?
Yes, Quortex Link can be used for 24/7 as well as event-based distribution. It comes with an easy-to-use scheduler, and can also be integrated with third party schedulers using our public API.
What makes Quortex Link unique in the industry?
Quortex Link is a pure self-service SaaS application. Through our easy-to-use interface, you can create your distribution links in a few clicks, without having to worry about provisionning or maintaining an underlying architecture. Just define your source and destination requirements, and Quortex Link will take care of the rest!
How can I be sure that my content will be delivered in a reliable way?
Quortex Link uses protocols such as SRT, designed from the ground to deliver securely professional live video streams over any IP network. On top of that, Quortex Link comes with several high availability distribution architectures, ensuring that your premium contents will always reach your destinations.
How do I make sure that no unauthorized user can access my content?
All contents delivered by Quortex Link can be protected using Advanced Encryption Standard (AES) encryption. On top of that, you can also apply IP filtering, ensuring that only authorized receivers will be able to access your streams.
In short, you can be sure that only authorized receivers will be able to receive and decrypt your premium contents!
Can I use Quortex Link to deliver streams worldwide, accross multiple regions?
Of course! Quortex link uses secured transport protocol, allowing to deliver our streams even over long distance.
To increase further the quality of the delivery, we use a private network backbone to tranport live streams between different regions, only using public internet for ground-to-cloud connectivity from a location close to your on-premise equipments.
I want to use AWS DirectConnect to establish a ground-to-cloud link with Quortex Link. Is it possible?
Ground-to-cloud or cloud-to-ground connectivity using AWS DirectConnect can be established by our support team. Please contact us, our team will be happy to help!
Can I use Quortex Link to deliver 4K video contents or MPTS (Multi-Program TS) for example?
Yes! We are fully agnostic to the content, and will deliver it without any stream modification. This means that you can transport any type of TS streams with any video or audio content inside.
I want to deliver SCTE-35 to my affiliates. Do you support it?
Yes. As long as your input source contains SCTE-35 (or any other type of marker), we will passhtrough the markers to all locations without any modification.
Can I ingest my streams from anywhere?
Sure! Your streams can be ingested from anywhere. We will select the best possible ingest point based on your localization. We use SRT as the input protocol. If you don't have SRT streams, our multicast to SRT gateway can help for sure!.