Quortex Play
Just-In-Time Cloud Streaming At Scale. Delivering your Live streams to millions has never been so easy, so targeted and so efficient!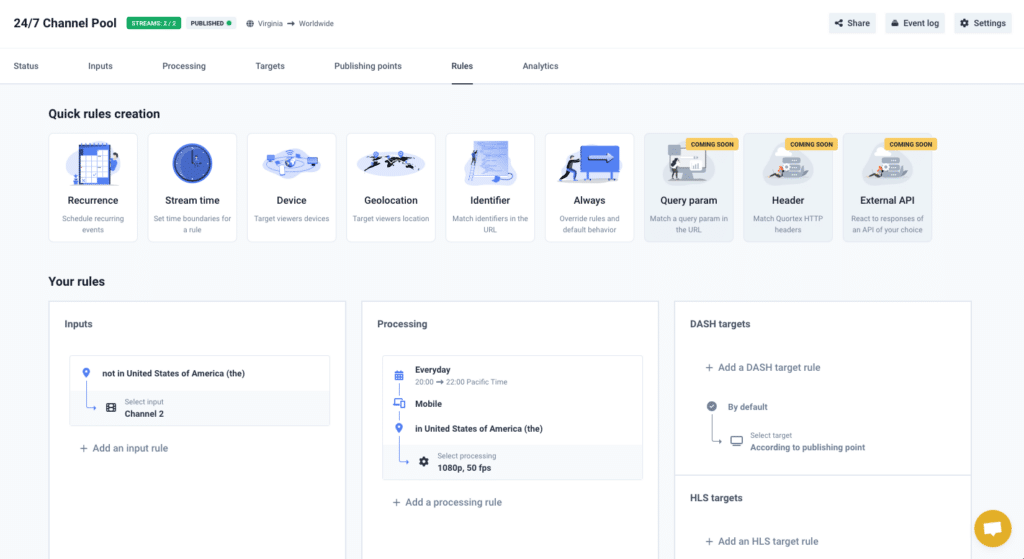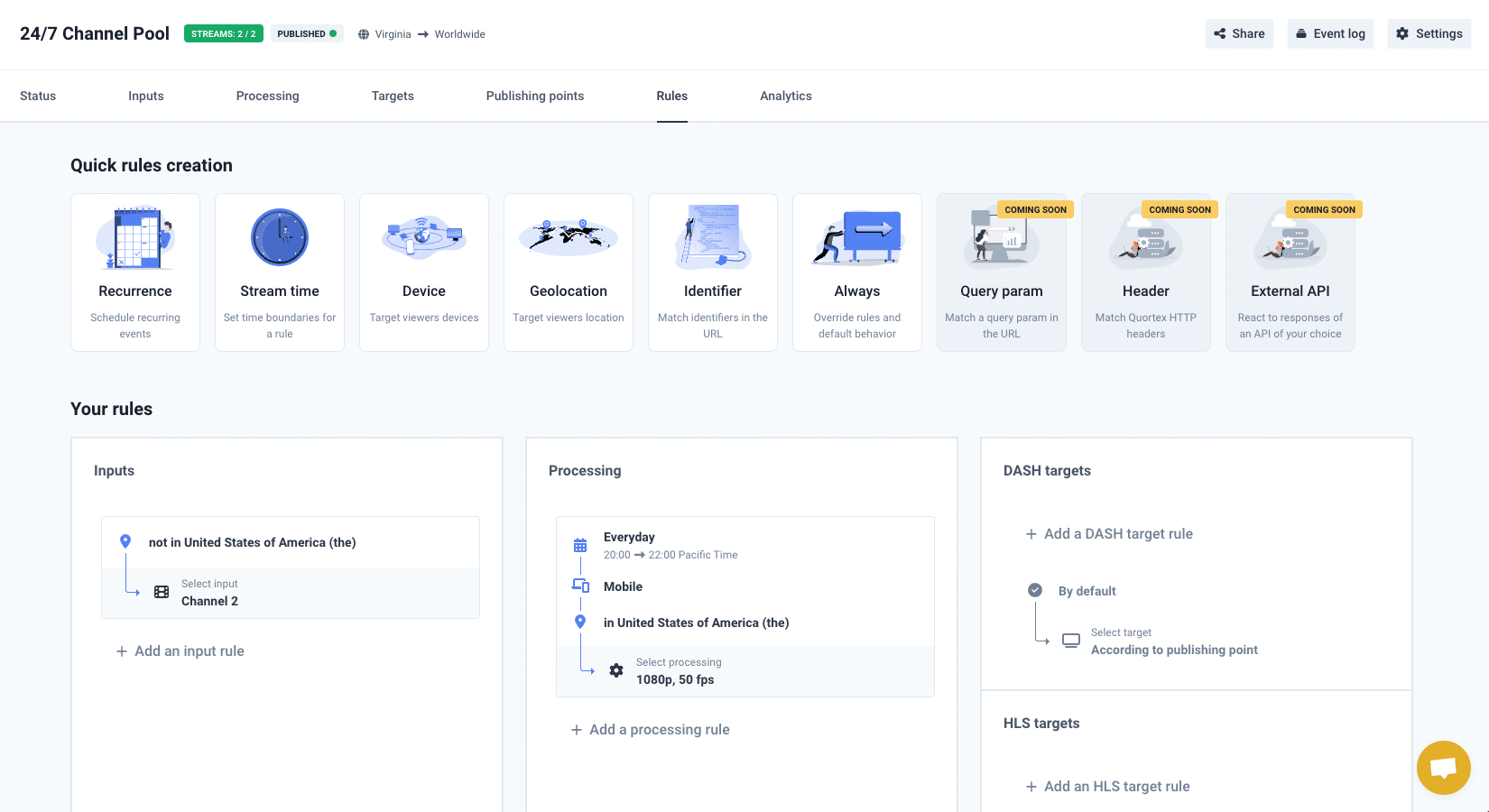 Who said the cloud should be expensive?
Using the right technologies make the cloud the most efficient way to deliver your content.
Operate hundreds of streams in a breeze from a central location.
Manage your teams, use the API, operate on the go with our modern web User Interface.
Quortex Play scales with your business and leverages a full Pay As You Go model. Create new live streams in a matter of seconds, and only pay for success.
Close to you and your viewers
Ingest your stream from anywhere globally
We will always ensure we deploy the workflow as closely as possible from your sources to ensure the perfect Quality of Experience.
Our best-in-class delivery network ensures smooth access throughout the world with low latencies.
At a single price.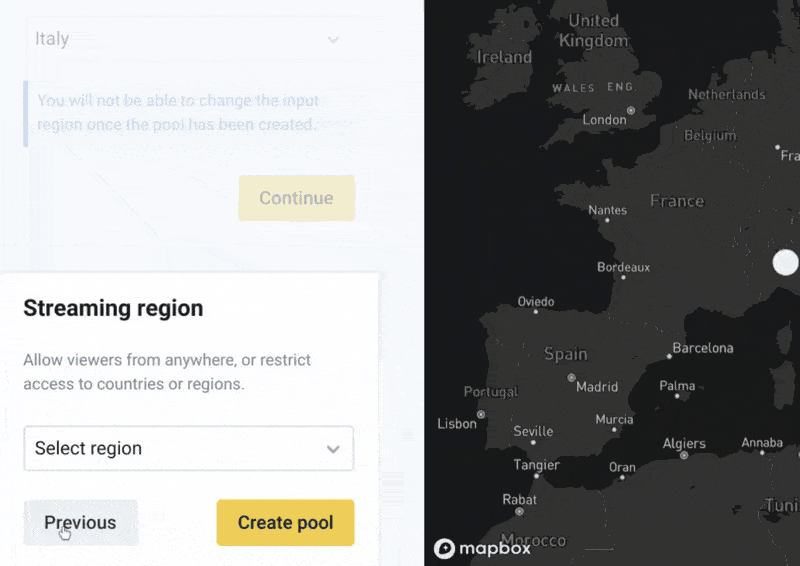 Play by your own rules
Contextualize the video experience
Define who can watch what, on which device and where. Streaming is all about moving to a user-centric experience, where you precisely control what your subscribers can watch.
Set working schedules, target specific devices or countries. Unleash your imagination!
Pay only for what your subscribers watch.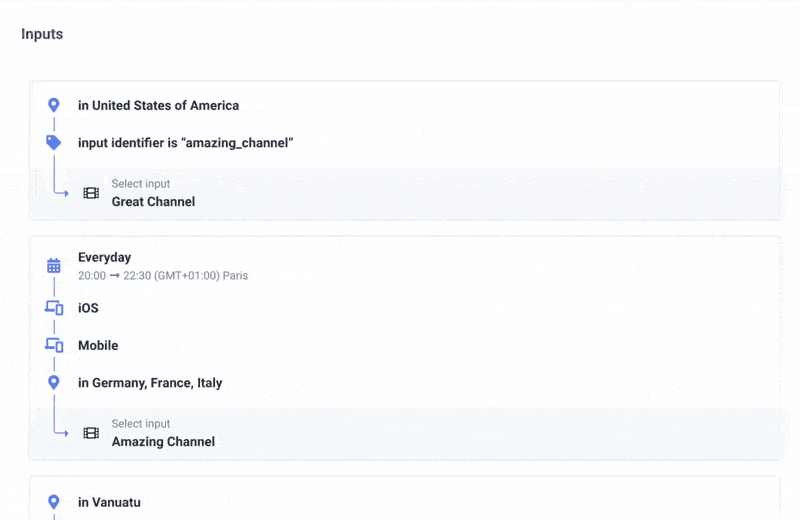 An API-centric platform
Move to the dark side
Automate everything using our fully documented API.
Launch channels, reconfigure them on the fly, gather analytics, schedule shutdowns, get billing information. You own it.
And of course, it comes at no extra cost.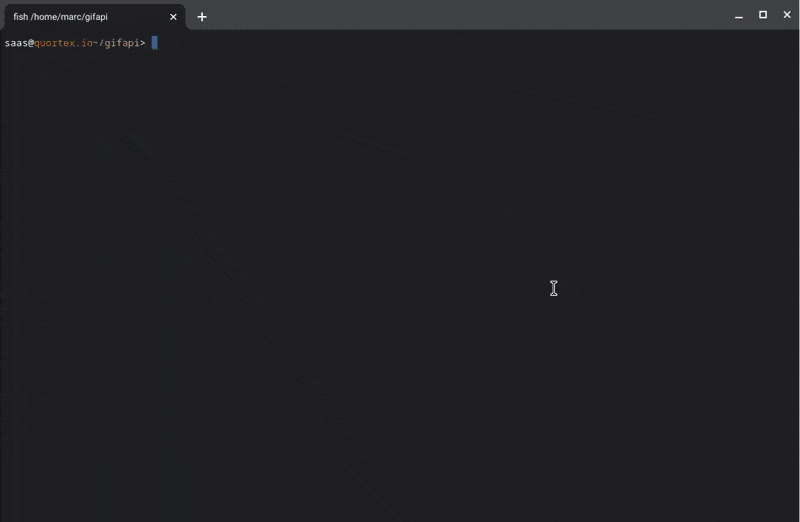 Actionable analytics
Data matters!
The world is overwhelmed with data. We picked the bits that matter.
Troubleshoot your streams, measure the success of your service, filter or sort by country, user, device, and fine tune your service accordingly.
Did we say it was all included?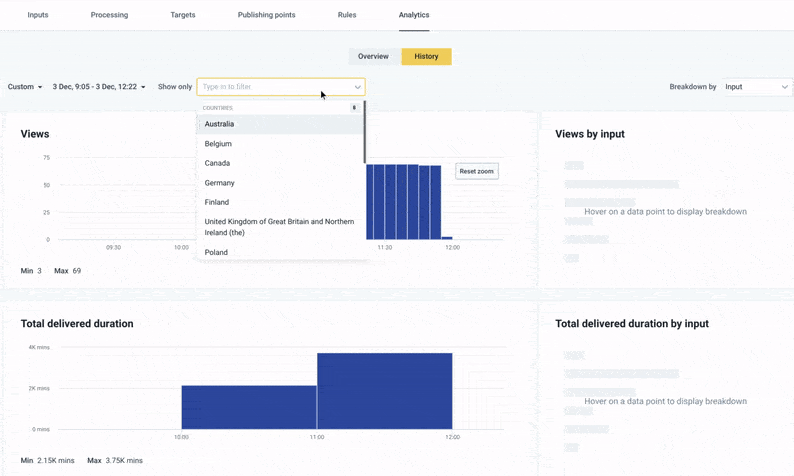 Costs are calculated from your actual usage, without any monthly/annual commitment, and include automatic volume discounts.
Real-life examples below!
1 match, 1000 viewers
4 hours of event
HLS and DASH
Up to 1080p50
---
---
1 channel, 5000 viewers
2 hours of TV per day
HLS and DASH
Up to 720p50
---
---
15 channels, 10 000 viewers
1 hour of TV per day
HLS and DASH
Up to 1080p25
---
---
A marketing Disaster – Nobody's watching!



---
---
Frequently Asked Questions
Why do you say your solution is "Pay As You Stream"?
We only charge for what the platform actually produces. For instance, other platforms will charge for the transcoding, whether you have viewers or not. We will only charge if someone actually watches the stream. More precisely, we will even only charge for the exact profile that are being transcoded!
Can I use my own CDN when using Quortex I/O?
Out of the box, you can use our built-in CDN to deliver your content to millions of viewers, anywhere globally. But you can also bring your own CDN and use Quortex Play as an Origin.
Do you require any commitment for using the platform?
No. You really pay as you use, with monthly invoices. No minimal volume, no minimum period.
Do you offer additional discounts if I commit to a minimal monthly volume?
Yes, you can make signficants savings. Contact us to learn more!
Do I have to install any software to use Quortex?
Not at all! Quortex is a true SaaS solution. It runs fully in the cloud and does not require any installation, or any cloud knowledge.
Can I test Quortex for free?
Sure! Just click the "Try for Free" button and you will be granted credits to start immediately!
Do you request any commitment to use the platform?
No. You really pay as you use, with monthly invoices. No minimal volume, no minimum period.
Do you offer 24/7 support?
Sure. Even though we are convinced that our solution is bullet proof, we can offer support packages that will fit with your specific needs.
Does it work for events or for 24/7?
Both! We built out platform to be a perfect fit both for events and for 24/7 cloud delivery. Whilst our Pay As You Go model is a great fit for events, we also built a extremely reliable platform for your 24/7 operations.
Can I use an API for integration with by backoffice and fully automate video delivery?
Of course! Our API is ready to use and, public, documented and of course, comes at no extra cost.
Can I ingest my streams from anywhere?
Sure! Your streams can be ingested from anywhere. We will select the best possible ingest point based on your localization. We use SRT as the input protocol. If you don't have SRT streams, our multicast to SRT gateway can help for sure!.
What regions can I deliver my streams to?
You can deliver your streams to any regions of the world! Pricing may differ depending on your target regions, but we make sure your stream always reaches its destination!
Do you support different user roles?
Of course. We have different access levels in the organization and you can easily share your channel pools with anyone, in just a click.
What payment methods can I choose?
VISA, SEPA, Invoice – your money, your call!
I'd like to maximise the visual quality during prime time while optimizing the costs at night. Can you do that?
Yes! You can do that on a time basis with our built-in scheduler (at no extra cost)
Will I pay more if I have HLS and DASH enabled?
Input Traffic and Processing traffic will of course be mutualized and you will pay them only once. You will only pay if more viewers watch your stream because HLS and DASH are enabled.
Do you support Subtitles insertion?
Yes we do. We take DVB-Teletext or DVB-Subtitle in input and we can output WebVTT in HLS and TTML in DASH.
How many video profiles can I define?
As many as you want. You will only pay for those which are pulled by the end users.
How many audio tracks can I insert in my streams?
As many as you want, there is no limit. You will only pay for those which are pulled by the end users.
What kind of outputs do you support?
We support HLS and DASH, so that you can reach any device.
Can I choose the URL of my published streams?
You can easily modify some parts of the published URL to make your streams unique!
Can I block specific users to access some of my streams?
Yes you can, either using vanilla geoblocking or using more advanced rules. You can for instance block users with a specific device and coming from a specific country, or restrict access to some users for one given input during prime time every day, etc.
I'd like to know who is watching my streams. Do I have to use a third party solution?
Of course not! You can track your audience and measure the success of your live streams, with filters on countries, inputs, devices, …. And at no additional cost!
Can I integrate Quortex video streams in any web page?
Sure! Our streams are natively compatible with any players on the market, including open source players such as HLS.js or Shaka player. It takes 10 lines of javascript to integrate our videos in your website!
Can I protect my streams and restrict my content to selected viewers?
Yes! We support all the DRM flavors to make sure that your content can only be watched by your selected subscribers.
What ingest protocols do you support?
We support SRT and RTMP. Although we are big SRT fans, RTMP can have advantages in some situations.
Do you support High Available inputs?
Yes we do. We make sure your content will always be delivered, and we offer input redundancy schemes where you can even mix between SRT and RTMP!